« I don't get cold Barry. »
. J'ai pu écrire

: 4037
scripts depuis mon arrivée, le

: 14/01/2017
PO coins :

: 22



❖ Sujet: ❖ Whatever. Dim 2 Avr 2017 - 11:19

---

WHATEVER !

Type du forum : Réel
Taille avatars : 200*320
Concept du forum : Crossover séries télé
Minimum de lignes : Aucun

WHATEVER !

Whatever est un forum mélangeant tous les personnages de séries télévisées confondues. Il permet aux joueurs d'incarner leur personnage sur quatre plateaux de jeu distincts, qui n'auront aucuns impactes entre eux. Chaque plateau de jeu offre une réalité alternative aux personnages de la série en les confrontant à des enjeux différents de ce qu'ils pourraient vivre à l'intérieur de leur série respective, exemple ; Imaginez Bree Van De Kamp survivant à une épidémie de zombies, Rachel Berry rencontrant un vampire ou bien Dean Winchester vivant les bons pères de familles ayant aucune connaissance d'un monde surnaturel…Ces plateaux vous offre la chance de ne pas fixer votre personnage dans un seul et unique concept et de pouvoir le développer via quatre univers différents, sans qu'il n'y ait d'impact l'un envers l'autre. Whatever vous offre donc la chance unique de répondre à la fameuse question «Et Si ?».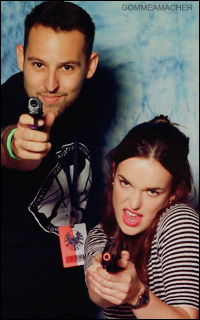 « Gimmick incomming »
. J'ai pu écrire

: 83
scripts depuis mon arrivée, le

: 23/03/2017
PO coins :

: 5



❖ Sujet: Re: ❖ Whatever. Sam 5 Aoû 2017 - 3:36

---

Whatever est toujours bien vivant ! Nous voyons continuellement de nouvelles têtes rejoindre le forum. Des rps en grande quantité - bien qu'ici, personne n'harcèle les membres pour jouer - on attend toujours pleins de personnages. Ce qui est intéressant, c'est sa grande diversité de personnages (toutes les catégories d'âge, tous les styles, toutes les origines et surtout pas que les personnages populaires qu'on trouve partout sur les forums.) Un nouveau design est installé sous le thème DOCTOR WHO. Les membres du mois sont : Daisy Johnson & Shane Walsh.

Codé par Heaven

❖ ❖ ❖

"i think my heart is better"

Party girls don't get hurt, can't feel anything, when will I learn.  I push it down, push it down. I'm the one "for a good time call". Phone's blowin' up, they're ringin' my doorbell. I feel the love.  ♛ by endlesslove.
« I don't get cold Barry. »
. J'ai pu écrire

: 4037
scripts depuis mon arrivée, le

: 14/01/2017
PO coins :

: 22



❖ Sujet: Re: ❖ Whatever. Dim 29 Oct 2017 - 15:21

---

Le forum a fêté ses ans le mois dernier ! Encore un énorme merci à tous nos membres, sans eux le forum ne serait pas ce qu'il est ! D'ailleurs nous comptons pas moins de 170 membres, notre grande famille ne cesse de s'agrandir dans la joie et la bonne humeur.

Les personnages les plus attendus actuellement sont :

▬ REVENGE :

DANIEL GRAYSON

NOLAN ROSS

CHARLOTTE GRAYSON

AIDEN MATHIS

▬ THE WALKING DEAD :

HERSHEL GREENE

JESSE ANDERSON

▬ LOST :

CLAIRE LITTLETON

SAYID JARRAH

▬ GREY'S ANATOMY :

LEXIE GREY

MARK SLOAN

ARIZONA ROBBINS

▬ THE VAMPIRE DIARIES :

JOSETTE PARKER

LORENZO ST JOHN

▬ THE ORIGINAL :

MARCEL GÉRARD

FREYA MIKAELSON

▬ SUPERGIRL :

LUCY LANE

WINN SCHOTT JR.

▬ SHAMELESS :

SHEILA JACKSON

▬ ANGEL :

WESLEY WYNDHAM-PRICE

▬ ARROW :

QUENTIN LANCE

NYSSA RAATKO

▬ SUPERNATURAL :

CHUCK SHURLEY

SAM WINCHESTER

▬ CHICAGO PD :

KIM BURGESS

▬ MODERN FAMILY :

ALEX DUNPHY

PHIL DUNPHY

LUKE DUNPHY

▬ INTO THE BADLANDS :

QUINN

M.K.

VEIL

▬ SUITS :

MIKE ROSS

DONNA PAULSEN

LOUIS LITT

▬ ONCE UPON A TIME :

HENRY MILLS

DAVID NOLAN

▬ SHADOWHUNTERS :

MAIA ROBERTS

LUKE GARROWAY

▬ RIVERDALE :

ARCHIE ANDREWS

BETTY COOPER

▬ BODY OF PROOF :

KATE MURPHY

▬ NO ORDINARY FAMILY :

JIM POWELL

DAPHNE POWELL

JJ POWELL

▬ TEEN WOLF :

MASON HEWITT

HAYDEN ROMERO

COREY BRYANT

Codé par Heaven




❖ ❖ ❖